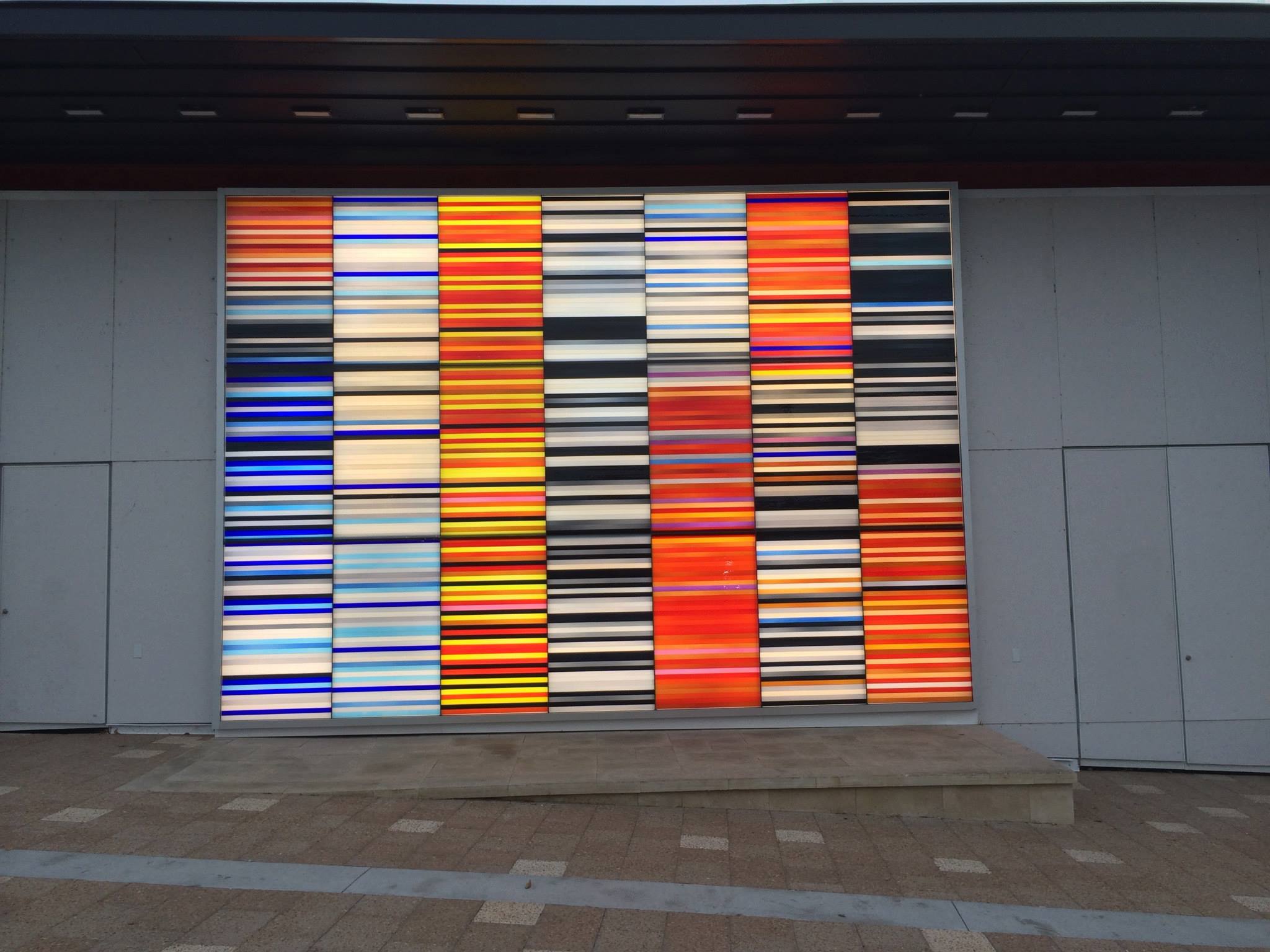 Photo Courtesy of Hannah Stueben
---
born Japan, 1942
---
Information
Art Type
Media / Materials
Collection
Year Completed
2013
Credit
Commissioned by the Greater Des Moines Public Art Foundation. Funds were provided by City of Des Moines, James W. Hubbell, Jr and Helen H. Hubbell Charitable Foundation, Trudy and G. David Hurd, Michele and Barry Griswell, Lynette and Kurt Rasmussen, Substance Architecture, and Bravo Greater Des Moines.
Information Resources
Location
Latitude & Longitude
41.585609, -93.617662
Location Description
The project is integrated into the north exterior wall of the Court Avenue Pump Station (CAPS) between the Des Moines River and Water Street, south of Court Avenue, Des Moines.
---
Expansion
Expansion was fabricated by the artist in collaboration with Derix Glasstudios in 2012-13 and installed on site between October 21 and 23, 2013. Illuminated from behind with 39,060 LED lights, the mural is located on the exterior wall of the triangular pump station and faces north towards the HubSpot Plaza and pavilion where, Kaneko's signature "dango" sculptures stand.
In April 2012, the Greater Des Moines Public Art Foundation commissioned one of three design proposals for a glass mural by Jun Kaneko.
The mural is a construction of blown glass with overall dimensions of more than 15-feet high by 21-feet wide. The compositions emphasize rhythm, balance, and color. The artist selected a color palette using white and a spectrum of vivid red, yellow and blue. A unique pattern of pictorial grids with hard-edge colors was constructed through a system of horizontal bands that the artist calls "stratum." The mural design consists of seven narrow panels formed by these stratum.
In developing the building, Des Moines-firm Substance Architecture worked with planning consultants, engineers, and stakeholders to knit the building into the overall master plan for the area. In addition, Substance was involved in discussions with the Greater Des Moines Public Art Foundation who commissioned the public artwork. The glass mural dialogues with the large-scale ceramic sculptures for the HubSpot plaza on the other side of the street from the pump station. This project was commissioned to unite the two spaces and enhance the intersection that opens towards Des Moines' Court Avenue entertainment district.
Fabrication Process
Hundreds of hand blown glass bands in 45 different colors were cut and each individually selected for the composition by the artist. The glass stratum were laminated evenly onto safety glass panels with the liquid lamination technique. Special aluminum profiles were applied to the back of the glass panels to affix them to the structure on site.
"Always, when I make pieces, it is not just the piece itself but its relationship to the space around it that has my attention. I don't think of my artwork as separate from the environment; it always depends on what it is next to. It's about proportion."

Jun Kaneko