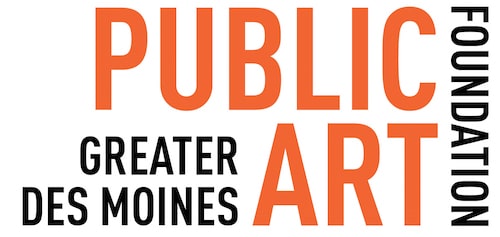 Greater Des Moines Public Art Foundation
Educational and Family Resource
Artist
Name
Lifespan
born 1959
Nationality
A Shift in the Stream
Nationally renowned artist, sculptor and architect Maya Lin is best known for her design of the Vietnam Veterans Memorial in Washington, D.C. In 1995, the Principal Financial Group invited  her to create a work of art for a new building on its corporate campus. That work was A Shift in the Stream, which introduces trickles of water down the two-story-high glass walls of the building's lobby. The water collects in a trench behind a long, jagged opening, like a running crack, at the bottom of the lobby wall. A Shift in the Stream refers to the shift from the work environment to a reflective, personal space evoked by running water.
(Revised Overview from York: The Century History Company, 1903, Vol. IV, pp. 153-154).
Discussion Questions
How would you describe this work to someone who could not see it? Try to go into as much detail as possible.
What do you find pleasing about this work? What do you find displeasing? If you could change any one thing about it, what would it be and why?
How does the location of this work affect how you think or feel about it? Can you imagine it anywhere else? How would it look or 'feel' different in a different space? Try to be specific.
The artist tells us that this piece is meant to suggests a shift from the work environment to a space of personal reflection. What other ideas might this work invoke?
What is a "shift" that you have experienced in your own life? What other "shifts" do we encounter in our lives?
Literature
Amy Stone. Maya Lin. Chicago: Raintree, 2003
A thoughtful and insightful biography of the artist-architect.
Maya Ying Lin. Boundaries. New York: Simon and Schuster, 2000
Maya Lin's first book is an eloquent visual/verbal sketchbook produced with the same inspiration and attention to detail as any of her other artworks. In it, sketches, photographs, workbook entries, and original designs are held together by a deeply personal text. It is itself a unique work of art.
Mary Malone. Maya Lin: Architect and Artist. Springfield, N.J.: Enslow Publishers, 1995.
Elementary through middle school audiences will gather new understandings from this introduction to Maya Lin.
Eve Bunting. The Wall. New York: Carrion Books, 1995
Elementary through middle school audiences will marvel at the watercolor illustrations of The Wall, designed by Maya Lin in this book. The author tells a moving story as a father and son visit this Memorial together. .
Internet Resources
Interview with Maya Lin
elementary-high school This video, offered by the Contemporary Art Museum of St. Louis, offers an interview with Maya Lin about her process, how she names her pieces and what kind of music she listens to when she works.
Art21 Artist Overview
elementary-high school This site provides activities, and multiple videos and images of a variety of Maya Lin's work.
Art & Architecture
elementary-high school The Art & Architecture curriculum is designed for teachers and students to explore architecture-inspired art by The J. Paul Getty Museum. Lesson plans, images and vocabulary are provided to support this curriculum.
Maya Lin Video
middle-high school This video segment from New York Voices, features Maya Lin's sharing her work and identity as an American of Chinese descent. The video focus on breaking down stereotypes. This Teachers' Domain resource offers transcripts, teaching tips, connections and standards connection.
Seeing the World Differently
upper elementary-high school This site offers an interview with Maya Lin along with a biography and photographs of the artist and her work. The interview takes a close look at life growing up in Ohio, influences on her work, and how her work is influenced by her experiences.
Art Activities
Architecture and Sculpture
preschool-elementary school Crayola offers families a sculptural activity with links between architecture and sculpture connected to artist Maya Lin.
Symmetry and Balance
elementary-middle school EDSITEment offers a series of art activities titled "Symmetry and Balance" that connect well with the concept of "balance" alluded to in A Shift in the Stream by Maya Lin.
Discover Maya Lin's Website
preschool-high school Visit Maya Lin's website to view and compare art as well as the architecture work of this artist.
The educational resources are designed to deepen and enhance the experiences and understanding of public art in Greater Des Moines. These resources are intended for families and educators to adapt to the needs of their individual children and/or classes.