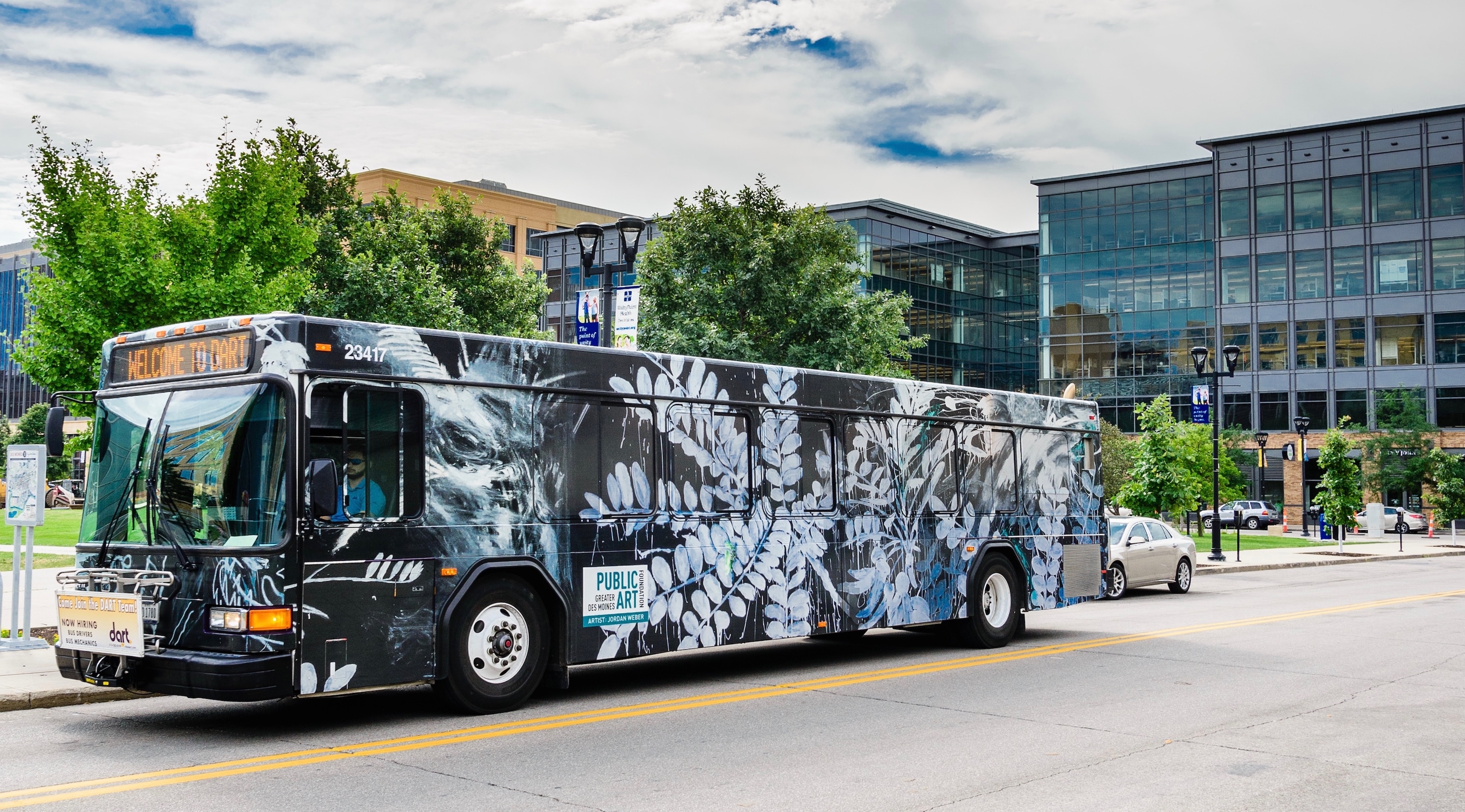 Photo Courtesy of Mat Greiner
---
born 1984
---
Information
Art Type
Media / Materials
Collection
Year Completed
2017
Credit
Commissioned by Greater Des Moines Public Art Foundation, 2017
Location
Latitude & Longitude
41.583404, -93.624406
Location Description
---
Bus Wrap #6: "Extinct Plant Species"
Greater Des Moines Public Art Foundation was proud to partner with the Des Moines Area Regional Transit (DART) Authority to unveil the sixth art bus design by Jordan J. Weber. The public unveiling event was in conjunction with the opening of the 2017 Des Moines Arts Festival on June 23 in Western Gateway Park. The bus was exhibited on Locust Street through the remainder of the Arts Festival.
Several officials spoke to the public at the June 2017 unveiling event: Greater Des Moines Public Art Foundation, Julia Weber (representing the artist) and The Honorable Christine Hensley. "We are proud to continue our partnership to bring our sixth public art bus onto the streets of our communities," said Christine Hensley, Des Moines City Council Member, DART Commissioner and Greater Des Moines Public Art Foundation board member. "These buses help to bring art out into the areas of our region where you would least expect it."
Following the unveiling, the bus to travel into communities throughout Greater Des Moines. The communities include Ankeny, Altoona, Pleasant Hill, Des Moines, Grimes, Windsor Heights, West Des Moines, Clive, Urbandale and Johnston. Based on the DART schedule, the bus travels approximately 27,000 miles per year or 2,250 miles per month.
"Plant and tree species from colonies that have gone extinct by means of environmental degradation, colonization & inter-tribal conflicts over the course of human existence. I want the bus wrap to be a reminder of how we must unify as a human species to survive in an ecosystem that we have depleted continually, even though we all rely heavily on the same resources despite our perceived differences."

Jordan J. Weber