Photo Courtesy of Courtesy of artist
---
born 1985
---
Information
Art Type
Media / Materials
Collection
Year Completed
2020
Credit
The 6AC Bus Shelter Art Project is funded by the 6th Avenue Corridor Urban Neighborhood Main Street Program, with partial support from Greater Des Moines Public Art Foundation.
Location
Latitude & Longitude
41.6113096, -93.6257997
Location Description
6th Avenue Corridor ("6AC") is a 1.2 mile section of 6th Avenue, which runs north and south between Interstate 235 and the Des Moines River. 6AC is 1/2 mile from the downtown core of Des Moines, Iowa. The bus shelters are located along 6th Avenue at:
---
Untitled Series: 6AC Bus Shelters
Contemporary artist Sheena Rose was commissioned to design a series of seven distinct designs for the 6th Avenue Corridor (6AC) Bus Shelter public art project. The project is being implemented in collaboration with the Des Moines Regional Transit Authority (DART) as part of a larger streetscape project.
In 2019, the 6th Avenue Corridor (6AC) Urban Neighborhood Main Street Program advanced the longest and most environmentally-sustainable streetscape project undertaken by the City of Des Moines. The district, located along 6th Avenue, links downtown Des Moines with historic neighborhoods to the north. Twelve (12) bus shelters are being installed in three phases along this 1.2- mile district stretching from the Des Moines River Bridge south to Interstate 235.
Each design is digitally embedded into the glass panels of each bus shelter.  The objective has created a collection with a common theme and inspiration to establish a distinct visual identity for transit in the 6th Avenue Corridor district. Each shelter structure features five glass panels and the designs will expand across the surface of each panel.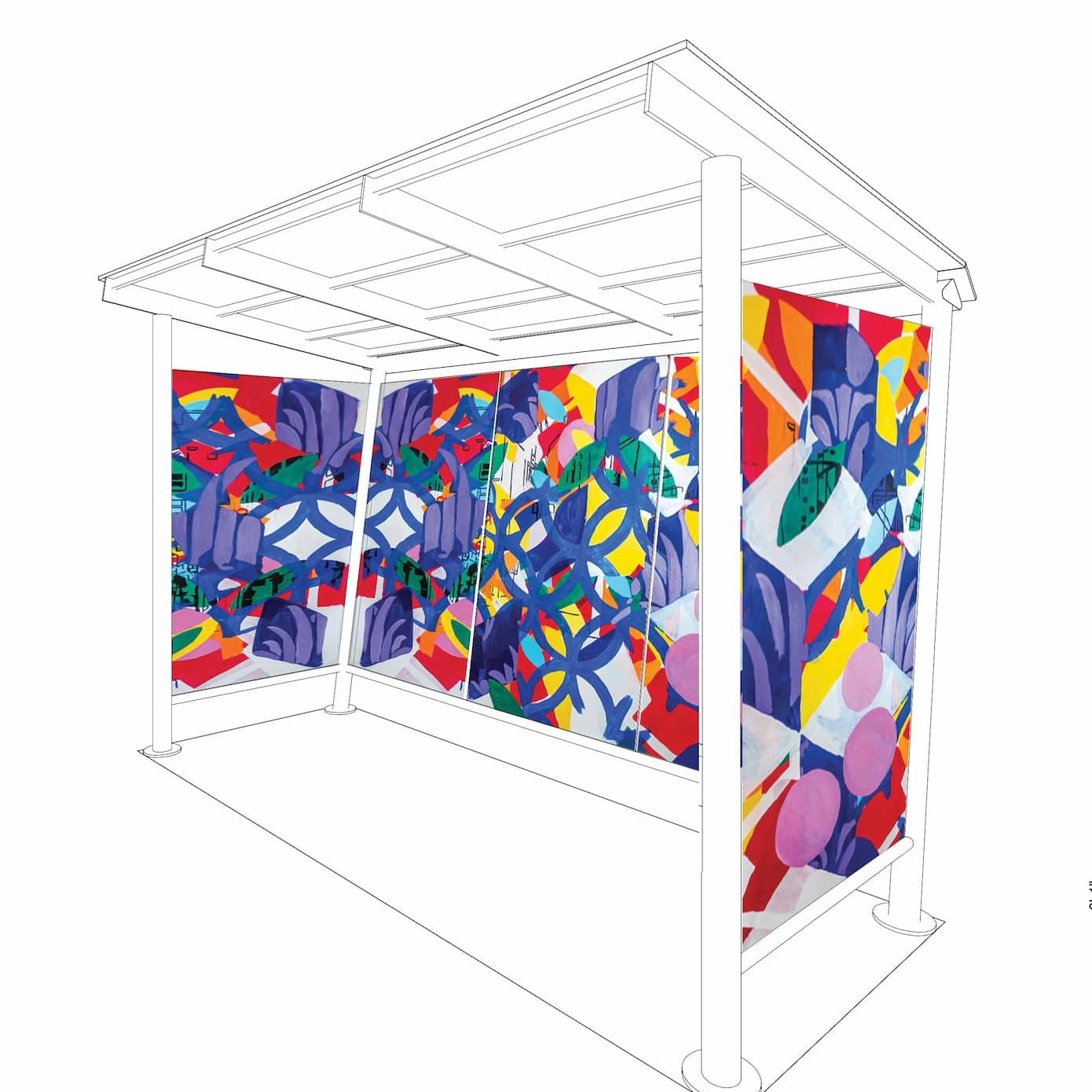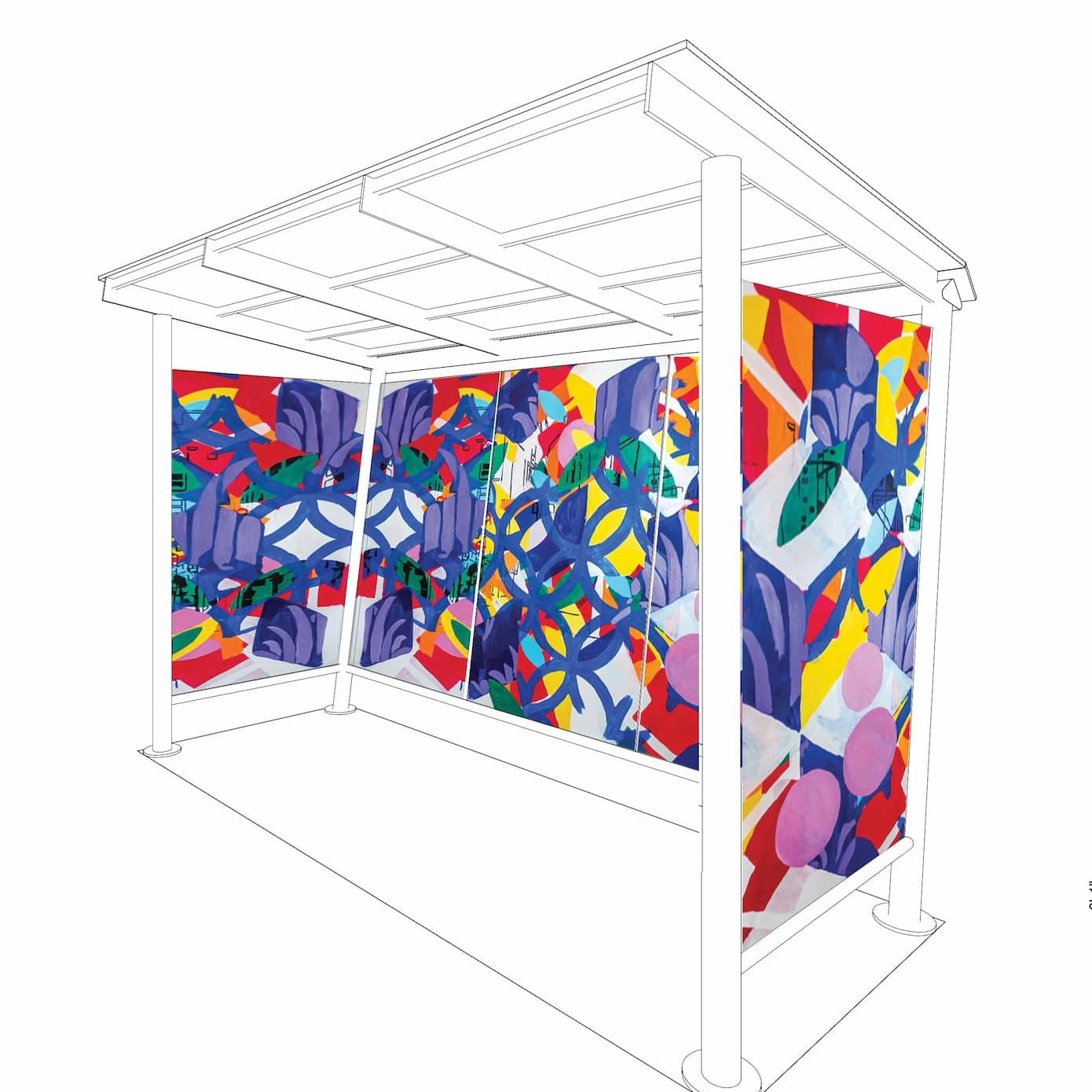 Sheena Rose's concept designs combined two major bodies of her work: "Sweet Gossip" and "Town."
"Sweet Gossip" is a collaborative project with artist Sheena Rose, photographer Adrian Richards and art historian Natalie McGuire. The project looks at the Pop culture of Barbados and the phrases or comments that Barbadians use when gossiping or in certain situations. In this series, Sheena Rose references some of the stereotypes and places them within everyday situations in the paintings. She incorporates her paintings into performances in the streets and public spaces where the gossip is overheard.
"Town" is about the busy urban life style the artist encounters when she travels to different countries.  Rose sees the world with lots of lines and images extending over a different image —  partially covering one another.  Many of these compositions overlap other cities and stores. She finds towns are very interesting places to draw. Particularly,  the daily lives of persons and the idea of the space.
Incorporating six vivid hues into these designs, the artist fills the composition with colors that are meaningful to her: orange represents diversity; yellow personifies welcome; purple expresses condition; blue reflects lightness; green embodies growth; and pink becomes balance.
The idea to do the 'Mash Up' of these specific styles comes from my desire to express the personality of the space, the vibrancy of the people and the architecture of the cityscape as a background all at once. Because that is how a city lives and breathes.

"Sweet Gossip" focuses on Barbadian Pop Culture and the phrases or comments that Barbadians use when gossiping or in certain situations. The questioning of oneself in the Barbadian space while observing stereotypes, history, gender and daily interactions.

"Town" is about the busy urban life styles I encounter whenever travel to different countries.

Sheena Rose