Photo Courtesy of Natalia Zubko
Information
Art Type
Media / Materials
Collection
Year Completed
2019
Credit
Commissioned by Water Works Park Foundation, Des Moines, IA ; Presented by The Kyle and Sharon Krause Family Foundation.
Location
Latitude & Longitude
41.572456, -93.647521
Location Description
Adjacent to the Lauridsen Amphitheater at Water Works Park, 2201 George Flagg Pkwy, Des Moines, IA 50321
---
River Constellation
River Constellation is a responsive sculpture evoking a thicket of light and sound, honoring the donors who support Des Moines' Water Works Park. Forty-five (45) ten-foot tall poles holding 12-inch diameter orbs that softly pulse with light are arranged to suggest the path of the Raccoon River through Water Works Park's 1,500 acre natural environment. Individual rings mounted to the poles are engraved with the names of park sponsors. Motion sensors trigger an infinitely variable musical composition of birdsong and a mixed ensemble. Sound exciters mounted within the globes play the music which is generated as a unique expression each time it begins, serenading those who explore within the sculpture's terrain.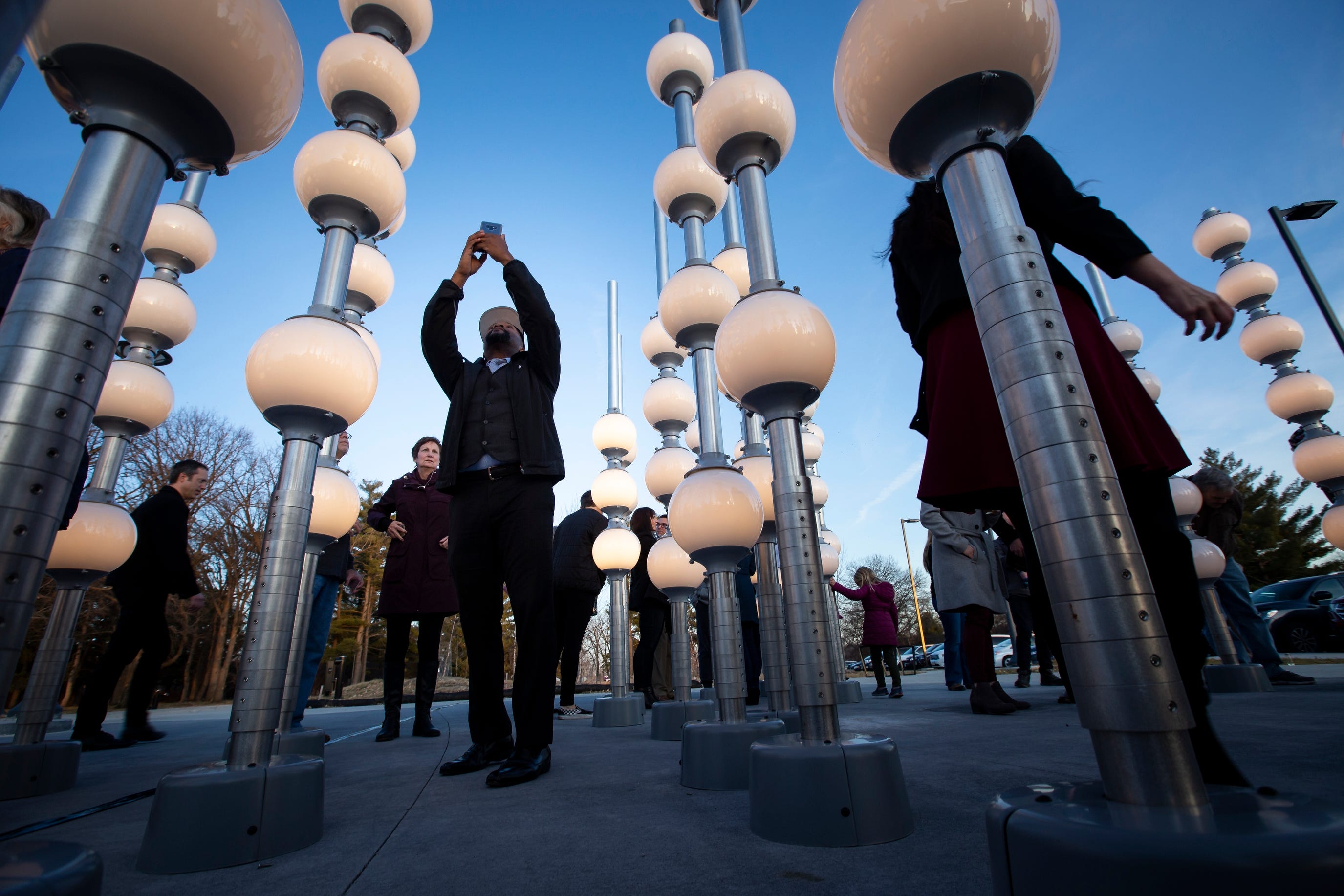 The artist team of Beau Kenyon and Natalia Zubko worked collaboratively to create River Constellation. The fabricator was JunoWorks;
sound and light design was by Dispersion; musicians were Bridget Cappel (mezzo soprano), Meridian Prall (alto), Evan Hammond (baritone), Kariann Voigts (clarinet), Kevin Judge (bassoon), Bret Seebeck (horn), Matt Halbert (trombone), Julie Fox Henson (violinist), Mary Pshonik (cello), and Beau Kenyon (piano).
The dimensions of River Constellation are 32 x 36 x 10h feet (9.75 x 10.8 x 3.1h meters).
River Constellation is a love poem to Water Works Park. We wanted our sculpture to reflect the importance of public spaces and the role of donors as guardians of the park. – Beau Kenyon

River Constellation Team