Scottish artist Martin Boyce, whose works include a modernist reworking of a library table and artificial trees,  won Britain's Turner Prize at a ceremony in Gateshead on December 5.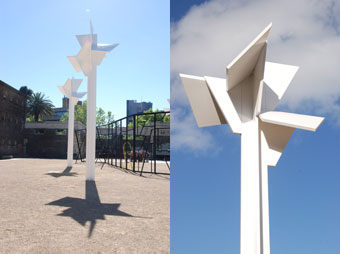 Born in 1967 in Glasgow, Boyce paid tribute to his parents and highlighted the importance of teachers in light of the government's spending cuts.
 "All I wanted to do was go to art school," he said. "I went there and there was the most amazing group of people waiting for me.
"At a time when education has been put though the wringer, I want to acknowledge the value of a successful education and the importance of teachers," he added.
The Turner is regarded as the art world's most edgy prize, honored  Boyce's atmospheric, large-scale, site-specific installations. The Hamilton-born artist takes his inspiration from the modernist giants of the early 20th century, and is known for taking styles found in furniture design and in the urban landscape and re-working them in modern spaces.
Boyce explained that his work explored "landscapes". "It's about passing through the space and the space between the sculptures as much as the sculptures themselves," he added.
---