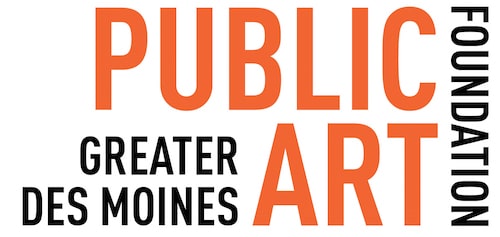 Greater Des Moines Public Art Foundation
Educational and Family Resource
Artist
Name
Lifespan
born Sweden, 1929
Nationality
Plantoir
Created in 2001 by artists Claes Oldenburg and Coosje van Bruggen, Plantoir is an example of the oversized versions of everyday objects for which the artists are so well known. The artists's representation of a common gardening tool is easily recognized, but they alter it so that we see its form in an entirely new way. The most important change is size: standing at over 23-feet tall and weighing 2300 pounds, Plantoir is no longer an ordinary hand-tool, but a monumental sculptural statement. Their use of a manufactured commercial object is associated with Pop Art, a movement of the late 1950s and early 1960s which embraced popular culture. After this transformation by Oldenburg and van Bruggen, we may never again see a garden trowel without thinking of it in a different way; they have changed both our ways of seeing and thinking. The title of the sculpture is a French word (another transformation) for a tool that plants seedlings. Plantoir is installed on the grounds of the headquarters of the Meredith Corporation and was acquired in honor of the 100th anniversary of the company. Meredith pioneered in publishing magazines such as Successful Farming and Better Homes and Gardens and is appropriately commemorated by the appropriated and re-conceptualized garden trowel, Plantoir.
Discussion Questions
What is your first impression of this sculpture?
How would you describe this sculpture to someone who cannot see it? Use as many sensory details as possible.
How well does this sculpture fit into its surroundings – would you have placed it anywhere else (in Des Moines? In Iowa? In the world?)
What message was the artist trying to communicate with this sculpture?
What are everyday objects that could be replicated in a large scale which might make a similar impact in this location?
Literature
Osterwold, T. (2015). Pop art. Köln: Taschen.
Featured in this book is Claes Oldenburg alongside other important artists of the Pop Art movement such as Andy Warhol, Roy Lichtenstein, and Robert Rauschenberg. Author Tilman Osterwold provides a deep exploration into the approaches, styles, and icons of the Pop Art movement.
Baby Professor. (2017). Pop Art vs. Abstract Art. Newark: Speedy Publishing.
This book is specifically geared for children who are interested in learning more about Pop and abstract art. Highly colorful, this is sure to engage children and light a fire to learn more. Books featuring additional art movements are also available by author Baby Professor.
van Wyk, G. & Stäuble, C. (2013). Pop art: 50 works of art you should know.
Munich: Prestel. Art historian and curator Gary van Wyk provides a thorough introduction to 50 of the most important artworks of the Pop Art movement. Illustrations are beautifully printed, with explanations of significance and style highlighted, alongside short artist biographies. Claes Oldenburg's Floor-Burger/Giant Hamburger (1963), one of his first soft sculptures, is featured.
Find additional Literature Resources in the Educational Resource for Oldenburg and Van Bruggen's Crusoe Umbrella.
Internet Resources
What is Pop Art? | Tate Kids (29 August, 2016). Tate Kids. YouTube video, 4 minutes, 34 seconds. Short introduction on pop art specifically geared for the elementary child. Heavily features Andy Warhol.
Claes Oldenburg. The Art of Pop: Soup Cans & Superstars Documentary clip. (24 January, 2016). Artandfilm21. YouTube video, 5 minutes, 29 seconds.
The artist is featured in this short clip, while the interviewer gives a timeline of Oldenburg's beginnings and an informative summary of his approach to art. A useful dialogue between the sculptor and interviewer will entrance any viewer.
Claes Oldenberg – 2011. (9 August, 2011). Debra Cole. YouTube video, 12 minutes, 52 seconds. This educational overview of Claes Oldenberg was created by teacher
Debra Cole for her 10th Grade Humanities
Exploration class. This is a thorough look at the artist, and high school students will enjoy seeing peers their own age involved in "recreations"!
Representations of Everyday Objects. Artsy.net.
This photographic assembly of over 20,000 artworks which include representations of everyday objects will interest students who may be considering creating their own works of art. Students of all ages will enjoy seeing the variety of interesting objects whose images have been integrated into works of art. The website begins with a quotation from Oldenburg. (Many of the works of art shown on the website are for sale.)
Oldenburgvanbruggen.com
The artists' official website hosts a thorough catalog of every large-scale project created, complete with histories and images. Biographies, selected publications, and writings are also linked on this easy-to- navigate website.
Find additional Internet Resources in the Educational Resource for Oldenburg and Van Bruggen's Crusoe Umbrella.
Art Activities
ON-SITE ACTIVITY
Drawing Perspective at Plantoir (Grades 9–12) Art
After students have already had a unit on perspective, implement what they have learned: students can select where they would like to sketch Plantoir from a distance and viewpoint of their choice. Utilize the public wiki Art Inspired to help with drawing objects in perspective:
Perspective: Frank Curkovic
The educational resources are designed to deepen and enhance the experiences and understanding of public art in Greater Des Moines. These resources are intended for families and educators to adapt to the needs of their individual children and/or classes.